About Us
Caring Hands Medical Care has been serving the Long Island community for over a decade. We offer a multi-disciplinary approach which includes physical therapy, chiropractic and acupuncture all under one roof. We pride ourselves with the relationships we have with our patients, our community and other doctors practicing in our community.
We have two locations located in Brentwood and Shirley. Our offices take pride in the fact that our staff is friendly, caring and understands that they work for you, the patient.
We thank all our patients for supporting our offices. Caring Hands Medical Care provides professional care for all our patients. We specialize in automobile accidents, work related injuries and sport injuries. Each one of our professional staff have both the education and experience to provide the best service possible. Add that to our state-of-the-art care offices and you have yourself a winning combination from your neighborhood health care professionals.
Caring Hands Medical Care offers the following services: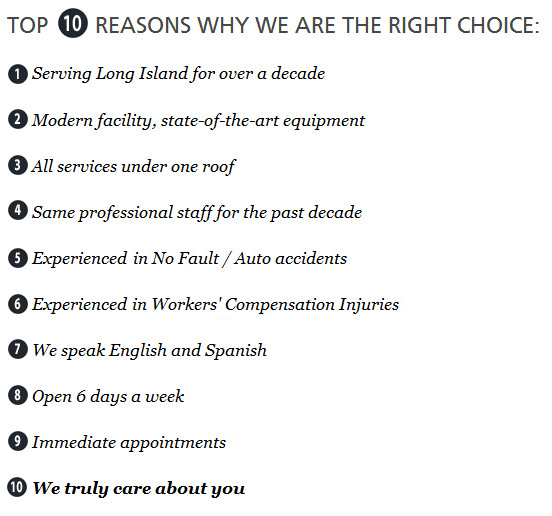 Opening Hours
Monday

9:00am-1:30pm - 3pm-7:30pm

Tuesday

9:00am-1:30pm - 3pm-7:30pm

Wednesday

9:00am-1:30pm - 3pm-7:30pm

Thursday

9:00am-1:30pm - 3pm-7:30pm

Friday

9:00am-1:30pm - 3pm-7:30pm

Saturday

8:30am - 12:30pm

Sunday

- CLOSED