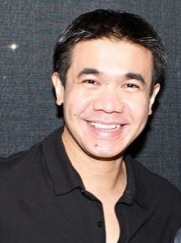 Siegfreid Capistrano has been employed as a physical therapist at Eastern Island Medical Care, P.C. since 2005. This facility has been an instrument of his professional growth through the knowledge and experience he has gained here. He has shown good sense of professionalism, integrity, and dedication throughout his practice. He has been providing physical therapy services with utmost care to all his patients, which is an indication of his great propensity to help other people.
Siegfreid has been a registered physical therapist in the Philippines since 1998. He had practiced his profession for a few years in this country before he decided to become a citizen here in the United States. He has been one of the founders of "The Attention Deficit/Hyperactive Disorder of the Philippines." This organization has been providing services to children with this disorder by helping them with their needs. He had been an active member of The Cardiac Rehabilitation Society of the Philippines which has been promoting awareness of the different cardiovascular diseases associated with unhealthy lifestyles.
He has been a registered physical therapist here in New York since 2005. He is currently taking his Doctorate Degree in Physical Therapy at Utica College in New York. Through the years of working in this facility, he has increased his awareness of his commitment and devotion to his vocation and has developed a good sense of professional responsibility as a physical therapist.